District Grand Lodge Website
The website of the District Grand Lodge of Jamaica and the Cayman Islands forms an important pillar upon which the success of the Districts' Strategic Plan rests. It serves as an important communication and public relations tool to disseminate information to both our members and the wider public. The Strategic Plan Implementation Committee wishes to share its' successes accomplished to date.
With twelve hundred (1,263) Freemasons in our District, our website will engage in 2013 alone, almost twelve thousand (11,490) unique visitors from one hundred and forty two (142) countries, collectively generating over two hundred thousand hits!
Our District has actually had a website since 2005. This coincided with, and was partially in celebration of, the visit of the Pro Grand Master to Jamaica in that year. The content grew slowly, numbering twelve (12) pages by the end of 2008. These included a list of the Lodges and their meeting dates, links to other sites and a copy of a paper by RW Bro Lazarus, PDistGM entitled "Experiences in Caribbean Freemasonry – the Jamaican Perspective". This article is still available on the current site for you to read at any time!
In 2009, just prior to the installation of our current District Grand Master, the website was re-designed and moved to a commercial host, thus removing the strange and colourful advertisements that adorned the previous version. With a cautious initiation on April 16 and the same twelve pages of content, it ended the first month with thirty-two (32) visitors and just under five thousand (4,915) hits. By the end of 2009 however, the website had attracted over one thousand (1,042) visitors, generating approximately fifty-three thousand (52,694) hits from over fifty countries; as far away as Japan and the Slovak Republic! Not a bad start for a website raised from obscurity and previously adorned with flashing advertisements.
With the consistent support and wisdom of the District Grand Master, along with his Administration, the website has grown in beauty and strength. After two more redesigns, it now numbers one hundred and thirteen (113) pages of content, including just about all of the Half Yearly Newsletters published since 2010 and a copy of every address to the Half Yearly Communications and Convocations since 2009. It boasts the calendar of meetings for all Craft Lodges and Royal Arch Chapters in our District and provides a home for the current By-Laws of the District, links to the the Constitution and the full list of each Administration since 2009. Even Directions in matters of Ceremony, as delineated by our beloved W Bro K.O.E. Barrow, live on to guide the next generations of Directors of Ceremony.
With this wealth of current history available online, all the time, it is no surprise to see the steady growth in visitors and page views. For 2013 we will have visitors from sixty-nine (68.9%) percent of the two hundred and six countries around the world! Japan continues to be a frequent visitor, ranked number twelve with four hundred and eighty (480) page views! Visitors "travelled" from Macedonia, Liechtenstein, Gambia and Benin to join with us at our little piece of Jamaican Freemasonry on the Internet. Almost a quarter of our visitors now are viewing the site using a mobile device!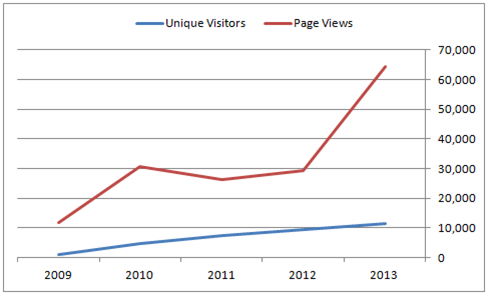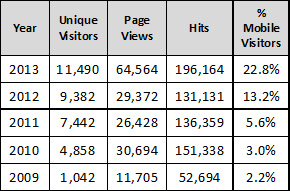 How do visitors from so far discover our bright light on the Web? By the use of careful optimisation and relevant content and links, our website ranks in the top seven search results on Google for terms like "Freemasonry in Jamaica", "District Grand Lodge", and is the number one web site search result for terms like "Jamaican Freemasons" and "Lodges in Jamaica".
Our next step must be for each individual Lodge in the District to carve, engrave, indite or otherwise them delineate their own space on the Web, adding to the information and history available on the Internet regarding Jamaican Freemasonry of yesterday, today and tomorrow. Royal 207, Friendly 239, Adair 8146 and Francis Haddon Bowen 9238 have already made that first step. Moore Keys 2519 had a presence in 2005 that no doubt will be raised and renewed.
Brethren, unlike a printed publication, the Web allows for gradual publication of information as more and more details are created, collected or photographed. There is no need to have all of the information ready before making that first regular step. Cautiously avoiding fear on the one hand and rashness on the other, your Lodges' first steps into cyberspace can be as fulfilling and engrossing as other first steps we have all made and shared.
Please ensure you contact the District office early to that your expert work, designs and content are in alignment with the District and Grand Lodge guidelines. The Office will also have details on very low cost web hosting available to the Lodges within our District. Best wishes for success and see you all on the Web soon!
Prepared by Bro G. Michael A. Fisher
Webmaster
27 December 2013
DISTRICT URL LINKS