Jamaica College Lodge No. 7254
The Lodge meets at 45-47 Barbados Avenue, Kingston 5 at 7:00 p.m. on the 2nd Monday of each month, excepting July and August.
The Installation Meeting is the March meeting and it starts at 6:30 p.m.
The dress code is a dark lounge suit worn with a black, District or Grand Lodge tie. Members wear the Jamaica College Old Boys tie.
Visitors do not pay a dining fee except for the Installation meeting.
Contact Details

Email sec7254@dgljamaica.com to get further details if you intend to visit.

www.facebook.com/jamaicacollegelodge7254/
Additional Information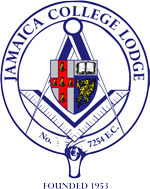 At the Consecration of the Lodge, the then District Grand Master , R W. Bro Percy Abraham stated that Jamaica College Lodge was the first school lodge formed in Jamaica. It was actually the first time an Old Boys of a school had formed a Freemasons lodge anywhere in the Caribbean.
The idea of the formation of this Lodge arose from the enthusiasm stirred up at the Drax Day celebrations in July, 1952. Some of the Old boys who attended the celebrations and who had seen the Light of Freemasonry, thought that the enthusiastic brotherhood displayed on Drax Day could be extended to more frequent associations by the formation of a Masonic Lodge - in learning the great principles inculcated by Masonry and assisting the school at the same time. The response of Old Boys was enthusiastic. When the list for Founders closed, there were twenty-one names, with six applications for joining and four for initiation. It is hoped that loyalty to the Lodge among its members will be no less than loyalty to a school, and play a part in producing enlightened and public-spirited citizens of Jamaica.
The Lodge is comprised primarily of Old Boys of Jamaica College, however we welcome past students from any institution.
Our charities include donations to Jamaica College and the Salvation Army.
Donations to the school include financial assistance with development of the infrasture as well as various student groups.
We hold an Annual Grand Raffle in December.
Past Masters of the Lodge
| | |
| --- | --- |
| W. Bro. Sir Neville Ashenheim, PDSGW | 1953 ♦ |
| W. Bro. Eric M. Clarke, PADGC | 1954 ♦ |
| W. Bro. H.C. Chambers, PDSGW | 1955 ♦ |
| W. Bro. Hon. S.C. Alexander O.J. LL.D., PDSGW | 1956 ♦ |
| W. Bro. D.J. Webb, PDSGW | 1957/69 |
| W. Bro. David H. Coore, QC., PDSGW | 1958 ♦ |
| W. Bro. Cecil S. Burke J.P., PDJGW | 1959 ♦ |
| W. Bro. R. Trevor Goodin, PDSGW | 1960 ♦ |
| W. Bro. Eugene A. Folkes, PDJGW | 1961 ♦ |
| W. Bro. Ralph Mahfood, PDGStdB | 1962 ♦ |
| W. Bro. Vincent A. Valentine, | 1963 ♦ |
| W. Bro. Dr. Irving E. Johnson C.D., PDSGW | 1964/65/75♦ |
| W. Bro. Harry B. Bent J.P., PDSGW | 1966/74♦ |
| W. Bro. Harvey A. Donaldson | 1967 |
| W. Bro. John L. Ffrench, PDJGD | 1968 |
| W. Bro. Edward S. Harrison, PDJGW | 1970 |
| W. Bro. A Trevor Evans | 1971 |
| W. Bro. L.T. Warmington O.D., PDSGW | 1972/73 |
| W. Bro. Sydney O. Guntley, PDGStdB | 1976/77♦ |
| W. Bro. John H. Haughton, PDSGW | 1978 ♦ |
| W. Bro. Dr. C. Astwood, PDGStdB | 1979 |
| W. Bro. R. Carlton Hayle, PDSGW | 1980 ♦ |
| W. Bro. Astley Cooper. | 1981 ♦ |
| W. Bro. Edmond G. Roper, PDJGW | 1982 ♦ |
| W. Bro. Clement H. Tomlinson, PDSGW | 1983 |
| W. Bro. Aurelio F. Condell J.P., PDSGD | 1984 ♦ |
| W. Bro. Lester L. Palmer J.P., PDGSupW | 1985 |
| W. Bro. Peter C. Crosswell J.P., PDSGW | 1986 |
| W. Bro. Errol D. McKenzie J.P., PDJGW | 1987 |
| W. Bro. Kendis W. Barrow, PDGStB | 1988 |
| W. Bro. Byron H. Wright | 1989 ♦ |
| W. Bro. Joscelyn A. Pottinger, PDGStB | 1990 |
| W. Bro. Neville St. John Bacquie, | 1991 |
| W. Bro. Trevor A. Lawson-Waddell, | 1992 |
| W. Bro. George C. Beecher | 1993 ♦ |
| W. Bro. Noel C. Gray, PDJGD | 1994 |
| W. Bro. George A. Roper O.D., J.P. | 1995 ♦ |
| W. Bro. Alwyn St. A. Passley J.P., PDGStB | 1996 |
| W. Bro. Lloyd A. Bryan | 1997 ♦ |
| W. Bro. Richard G. Rowe, PDJGD | 1998 |
| W. Bro. Herbert D. Repole C.D. | 1999 ♦ |
| W. Bro. Ian R. W. Gage, PDSGD | 2000 |
| W. Bro. Oswald R. Lee, PDSGD | 2001 |
| W. Bro. Desmond Hayle, PDGStB | 2002 |
| W. Bro. S. Arturo Stewart, PDGStB | 2003 |
| W. Bro. Basil Been | 2004 |
| W. Bro. Fitzgerald Guthrie | 2005/06♦ |
| W. Bro. Lloyd G. Barnett, Jr. | 2007 |
| W. Bro. Headley E. Hibbert. | 2008/09 |
| W. Bro. Robert J. Lawson | 2010 |
| W.Bro. Winston P. Barrett | 2011 |
| W.Bro Andrew J Bromley | 2012 |
| W. Bro David A Lee | 2013 |
| W. Bro Capt. Dr. Ryan M. Jarrett | 2014 |
| W. Bro Ray Jerry Johnson | 2015 |
| W. Bro Delroy Anthony Brown | 2016 |
♦ - Deceased